1st patient uses DigniCap at UCHealth Memorial
UCHealth Memorial Hospital is the first in southern Colorado to offer the DigniCap, an FDA-approved scalp-cooling device designed to slow hair loss from chemotherapy
Often, a person's identity includes their appearance, and for women, that often includes hair.  Now the DigniCap can help in that department.
Tiffany is the first patient at Memorial to use it. "Honestly every step of the way there have been different fears.  'What about this, what about that, my gosh I'm going to lose my eyelashes.' Looming was the loss of hair, more so because that just marks you as sick, you know everybody knows you're sick.  To me that was a big thing.
Tiffany Daniels was d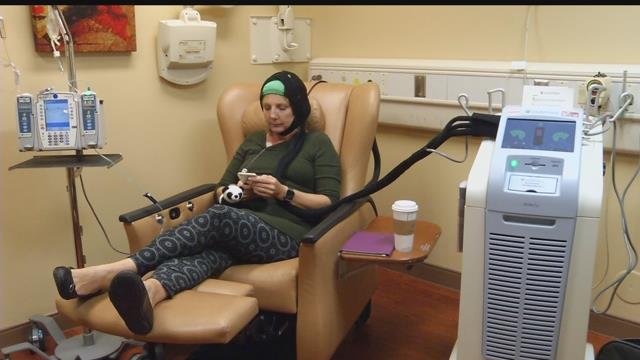 iagnosed with early stage breast cancer in late August.  "I was given options. I could either have a lumpectomy, radiation and chemo; a mastectomy and chemo; or a double mastectomy and chemo, so any way I looked at it I was going to go through chemo."
She chose to have a double mastectomy so she would only have to fight this battle once.  It's a battle that for Tiffany came with many fears about her treatment and recovery.
Anne Varevice is a Registered Nurse on the outpatient infusion unit at UCHealth Memorial.  "I think a lot of the initial fears are very physiological, like how am I going to feel.  Am I going to be tired, am I going to be in bed all the time?  I think once we calm those fears and treatment begins, it becomes more about how can I keep living my life, how can I keep caring for my children, how can I keep going to work, and how can I keep doing all the things that I love that make me who I am."
After her first round of chemotherapy, which included use of the DigniCap, Tiffany described, "It was very simply actually; they put like a swim cap on.  It goes over your head and it's very cold for the first 45 minutes.  After that it was tolerable, and you sit there for six hours, so it takes about two more hours than your normal chemo treatment time".
Through the generosity of our donors, UCHealth Memorial Hospital Foundation has established a fund for patients who are unable to afford the co-payment for the use of this technology.